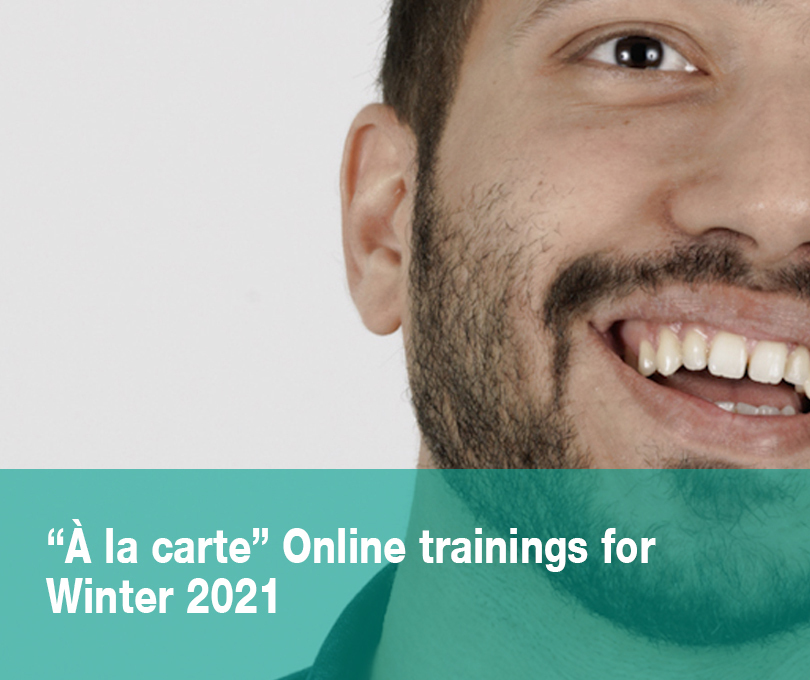 WINTER 2021 –
"À LA CARTE" ONLINE TRAININGS FOR TEACHERS
CAVILAM – Alliance Française offers you a series of online training courses by videoconference.
In this training, you will find many practical and directly transferable ideas to whether in face-to-face or virtual classes.
We offer a range of 2 formulas: first steps and standard.
ONLINE PROGRAM
Each week, choose oneor two courses. The times indicated are French time.
Monday 8 to Friday 12 February 2021
9:00 a.m.-10:30 a.m.: Improving teaching virtual classes with TV5MONDE and RFI (5 x 1.5 hours)11:00 a.m.-12:30 a.m.: Efficiently design and run virtual classes (5 x 1.5 hours)
Monday 15 to Friday 19 February 2021
2:00 a.m.-3:30 p.m.: Develop communication in virtual classrooms (5 x 1.5 hours)
4:00 p.m.-5:30 p.m.: Boost interactions in virtual classrooms (5 x 1.5 hours)
Monday 22 to Friday 26 February 2021
09:00 a.m.–10:30 a.m.: Efficiently design and run virtual classes (5 x 1.5 hours)
11:00 a.m.-12:30 p.m.: Assess distance learners (5 x 1.5 hours)
4:00 p.m.-5:30 p.m.: Efficiently design and run virtual classes(5 x 1.5 hours)
Monday 1 to Friday 5 March 2021
2:00 p.m.–3:30 p.m.: Boost interactions in virtual classrooms (5 x 1.5 hours)
4:00 p.m.–5:30 p.m.: Inspiring pedagogical uses of the smartphone in the French classroom (5 x 1.5 hours)
Monday 8 to Friday 12 March 2021
2:00 p.m.-3:30 p.m: Improving teaching virtual classes with TV5MONDE and RFI (5 x 1.5 hours)
4:00 p.m.-5:30 p.m.: Efficiently design and run virtual classes (5 x 1.5 hours)
Monday 15 to Friday 19 March 2021
9:00 a.m.–10:30 a.m.: Develop communication in virtual classrooms (5 x 1.5 hours)11:00 a.m.–12:30 p.m.: Develop communication in virtual classrooms (5 x 1.5 hours)
Monday 22 to Friday 26 March 2021
2:00 p.m.–3:30 a.m.: Efficiently design and run virtual classes (5 x 1.5 hours)
4:00 p.m.–5:30 p.m.: Assess distance learners (5 x 1.5 hours)
Monday 29 March to Friday 2 April 2021
11:00 a.m.–12:30 p.m.: Efficiently design and run virtual classes (5 x 1.5 hours)11:00 a.m.-12:30 p.m.: Improving teaching virtual classes with TV5MONDE and RFI(5 x 1.5 hours)
2:00 p.m.-3:30 p.m.: Inspiring pedagogical uses of the smartphone in the French classroom (5 x 1.5 hours)
[/one] [one] [/one] [one] [/one] [one] [/one

[/columns2]
Our prices
Start the adventure of French in a few clicks