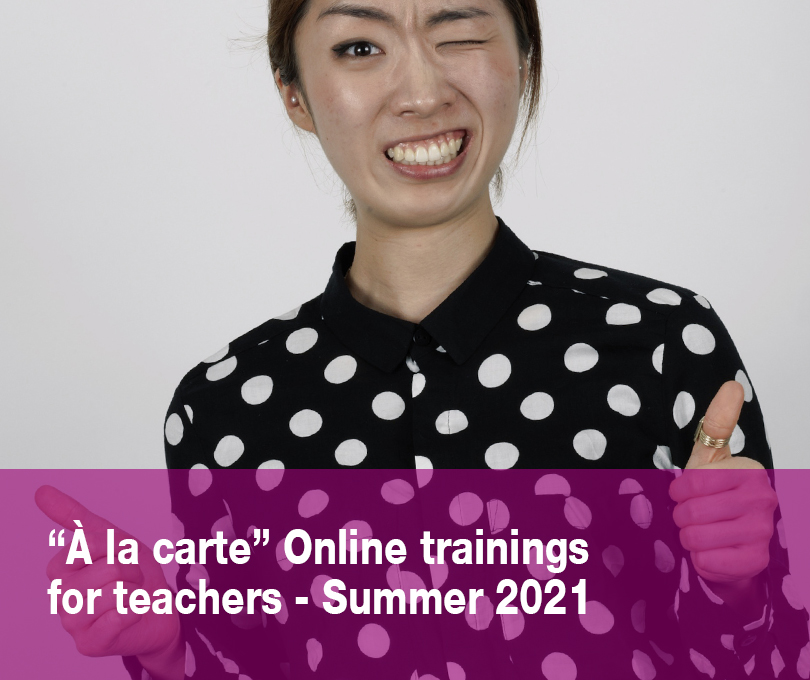 ONLINE TRAININGS FOR TEACHERS "À LA CARTE"
This summer, CAVILAM – Alliance Française offers you a series of online training courses by videoconference to provide concrete answers to essential questions in the life of a 21st century teacher, whether in face-to-face or virtual classes.
We offer  a range of four formulas: standard, intensive and super intensive.
In this training, you will find many practical and directly transferable ideas to your classroom. You will be able to think collectively on the evolution of your profession as a teacher. You will exchange with the other international participants on their experience and benefit from the expertise of the CAVILAM – Alliance Française trainers.
ONLINE PROGRAM
Each week, choose one,  two, three or four courses. The times indicated are French time.
Monday 5 July to Friday 9 July 2021
9:00 a.m.–10:30 a.m.: Teaching communication skills in French class: interaction / mediation / reception /production (5 x 1.5 hours)
11:00a.m.–12:30 p.m.: Teaching language and culture, key insights into today's French society (5 x 1.5 hours)
2:30 a.m.-4:00 p.m.: Motivate to learn, learn to motivate (5 x 1.5 hours)
4:30 p.m.-6:00 p.m.: Teaching and learning vocabulary, grammar and pronunciation (5 x 1.5 hours)
Monday 12 July to Friday 16 July 2021* (July 14th, public holiday)
*As July 14 th is a public holiday, the timetables for the week of 13 July are modified:
Monday, Wednesday, Thursday 8:00 a.m.-10:00 a.m. / Friday 9:00 a.m.-10:30 a.m.: Improving oral and written skills with the media (press, TV5MONDE, RFI Savoirs) ( 3 x 2 hours & 1 x 1.5 hours)
Monday, Wednesday, Thursday 10:30 a.m.-12:30 p.m. / Friday 11:00 a.m.-12:30 p.m.: Practical digital tools for learning and teaching French) ( 3 x 2 hours & 1 x 1.5 hours)
Monday, Wednesday, Thursday 2:30 – 4:30 p.m. / Friday 2:30 – 4:00 p.m.: Positive feedforward and assessment as motivational tools ( 3 x 2 hours & 1 x 1.5 hours)
Monday, Wednesday, Thursday 5 :00 p.m.-7:00 p.m. / Friday 4:30 p.m.-6:00 p.m.: Classroom activities, games and creativity for the everyday French class ( 3 x 2 hours & 1 x 1.5 hours)
Monday 19 to Friday 23 July 2021
9:00 a.m.–10:30 a.m.: Motivate to learn, learn to motivate (5 x 1.5 hours)
11:00 a.m.–12:30 p.m.: Teaching and learning vocabulary, grammar and pronunciation (5 x 1.5 hours)
2:30 a.m.-4:00 p.m.: Teaching communication skills in French class: interaction / mediation / reception / production (5 x 1.5 hours)
4:30 p.m.-6:00 p.m.: Teaching language and culture, key insights into today's French society (5 x 1.5 hours)
Monday 26 to Friday 30 July 2021
9:00 a.m.–10:30 a.m.: Improving oral and written skills with the media (press, TV5MONDE, RFI Savoirs) (5 x 1.5 hours)
11:00 a.m.–12:30 p.m.: Practical digital tools for learning and teaching French (5 x 1.5 hours)
2:30 a.m.-4:00 p.m.: Positive feedforward and assessment as motivational tools (5 x 1.5 hours)
4:30 p.m.-6:00 p.m.: Classroom activities, games and creativity for the everyday French class (5 x 1.5 hours)
Monday 2 to Friday 6 August 2021
9:00 a.m.–10:30 a.m.: Teaching communication skills in French class: interaction / mediation / reception / production (5 x 1.5 hours)
11:00 a.m.–12:30 p.m.: Teaching language and culture, key insights into today's French society (5 x 1.5 hours)
2:30 a.m.-4:00 p.m.: Motivate to learn, learn to motivate (5 x 1.5 hours)
4:30 p.m.-6:00 p.m.: Teaching and learning vocabulary, grammar and pronunciation (5 x 1.5 hours)
Monday 9 to Friday 13 August 2021
9:00 a.m.–10:30 a.m.: Improving oral and written skills with the media (press, TV5MONDE, RFI Savoirs) (5 x 1.5 hours)
11:00 a.m.–12:30 p.m.: Practical digital tools for learning and teaching French (5 x 1.5 hours)
2:30 a.m.-4:00 p.m.: Positive feedforward and assessment as motivational tools (5 x 1.5 hours)
4:30 p.m.-6:00 p.m.: Classroom activities, games and creativity for the everyday French class (5 x 1.5 hours)
Monday 16 to Friday 20 August 2021
9:00 a.m.–10:30 a.m.: Motivate to learn, learn to motivate (5 x 1.5 hours)
11:00 a.m.–12:30 p.m.: Teaching and learning vocabulary, grammar and pronunciation (5 x 1.5 hours)
2:30 a.m.-4:00 p.m.: Teaching communication skills in French class: interaction / mediation / reception / production (5 x 1.5 hours)
4:30 p.m.-6:00 p.m.: Teaching language and culture, key insights into today's French society (5 x 1.5 hours)
Monday 23 to Friday 27 August 2021
9:00 a.m.–10:30 a.m.: Positive feedforward and assessment as motivational tools (5 x 1.5 hours)
11:00 a.m.–12:30 p.m.: Classroom activities, games and creativity for the everyday French class (5 x 1.5 hours)
2:30 a.m.-4:00 p.m.: Improving oral and written skills with the media (press, TV5MONDE, RFI Savoirs) (5 x 1.5 hours)
4:30 p.m.-6:00 p.m.: Practical digital tools for learning and teaching French (5 x 1.5 hours)
[/one] [one] [/one] [one] [/one] [one] [/one]
Our prices
Start the adventure of French in a few clicks

[/columns2]